First off, this is my first blog post in about 7 years, please enjoy the mess. The plan was for computer stuff to be here, but you're seeing this post because nearly everyone I ran into at each destination last weekend was flabbergasted by the fact that I was alone. I plan to outline the reasons it was awesome here.
Friday
Friday morning I woke up around three in the morning and was eventually chauffeured to the train station by my roommate. You read that right; I took the train for the first time in my life and it was fantastic. The southbound Silver Meteor (Amtrak 97) arrived about 12 minutes late at 5:03. I was met by a crew of friendly folks who helped me stow my things and find my Viewliner Roomette. The bed was made up and a bottle of water was ready. I was the only person travelling in the cabin, so the second bed remained stowed. I crawled in and relaxed for a bit before falling asleep. The next thing I knew, light was shining in my room and we had arrived in Savannah, Georgia. It was around 7, a great time to head to breakfast.
I popped my head out of my little nook and Bianca pointed me in the direction of the dining car as she disassembled the bed into two seats facing each other. Meals are included with sleeping car reservations, so that rocks. Breakfast was fine. I enjoyed the scrambled eggs and bacon with some orange juice. Whatever orange juice is in Mountain Dew that is :). Something fun to note about a dining car, you are seated with random folks to maximize the use of the few seats that are available. My breakfast friends were from Virginia and headed towards Jacksonville. The young lady across from me was celebrating her 50th by going skydiving with an old friend. What a thing to do. Her companion didn't seem interested in chatting as much and that's totally fine too. When I returned to my cabin I setup my iPad and kicked back to watch a few episodes of a random Netflix show. We were off and moving again.
Around 11, one of the dining car employees stopped by with the passenger manifest that notified him I'd be disembarking in Orlando. He offered me the earliest lunch reservation at 11:30 and I took him up on it. When my reservation time arrived, I wandered forward 4 coaches to the dining car once more and was again greeted by George, the waiter. He sat me near the rear of the car this time with a mother and son. They were returning from New York to Orlando, so they had been on the train for awhile. The boy was super interested in his iPad and the dinner rolls he ordered so he didn't care much about me. The lady and I spent most of meal time discussing the pros and cons of train travel, something she had done many times, and I was only just discovering. Lunch for me consisted of a hamburger that wasn't great, but wasn't the worst I have had. Imagine those microwave sandwiches from gas stations, that's about all it is. I ate some of it, tipped George, and wandered back to my car with another Mountain Dew in hand.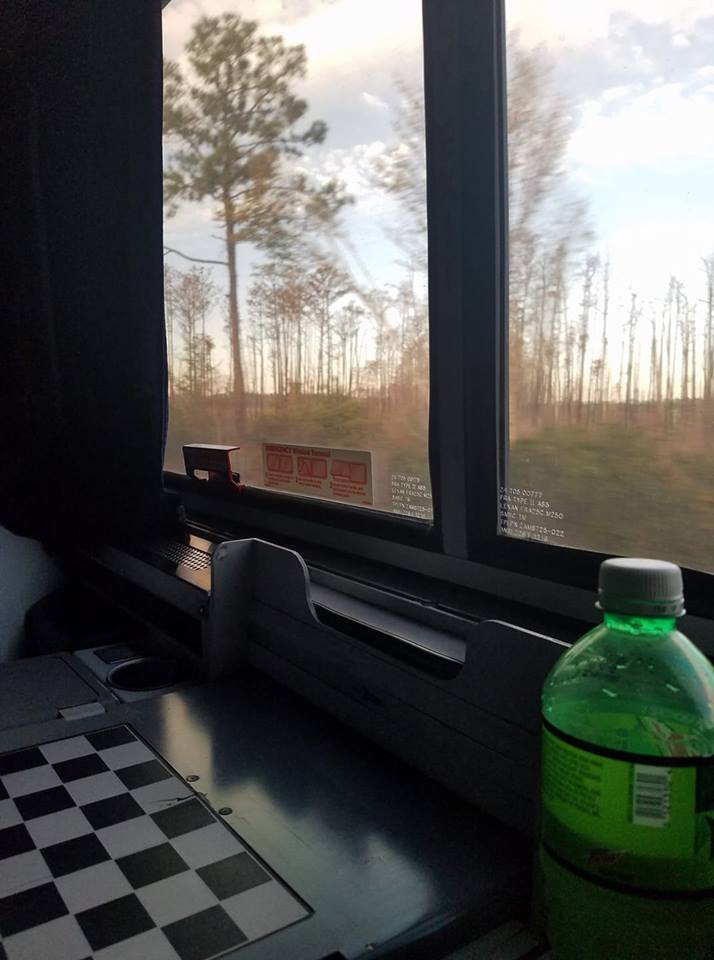 In the meantime of lunch, we had a problem. You see, Amtrak doesn't own most of the tracks they travel on, and we were suffering a touch from that. A freight train had broken down overnight and was blocking the tracks we were on. This meant that both the 91 Silver Star and 97 Silver Meteor were stopped. None of this bothered me though, because I had nowhere to be Friday, my plans started Saturday. Anything I got done Friday was just a bonus. More on that in a minute. Anyway, after about an hour and a half, of being stopped, the freight train had moved, the 91 Silver Star had continued on, and we followed. Yet another challenge was ahead…for me anyway.
Each Viewliner Roomette has a small toilet and sink setup, similar to what you find in commercial jets. While the ride in a train is smooth, it's not that smooth, and my next battle was aiming while travelling forward at 80mph. I didn't miss. After that adventure, I changed into shorts to wander Orlando in. Just over 2 hours late, we arrived and I signaled for an Uber.
I was staying at the Doubletree at the entrance to Universal Orlando, the whole reason for this trip. If you've never stayed at a Doubletree, I have two important pieces of information for you. First, you can have as many of their kickass cookies as you want. Just go ask for more, they're always warm. Second, they sneak a 22% gratuity onto any meal purchase, so keep an eye on that. I checked in online so I headed straight to my room.
No big news on the features of the room. It wasn't the purpose of the trip. I took a quick shower, noting the sulfur undertones in the scent of the water which seems to be an Orlando thing, and proceeded promptly on foot to the park.
While in the park, I only tried out a few rides the first night. I didn't have a reason to wait in line for a bunch of them, or even stay in the park for very long. The promo pricing I found for the 4 day 2 park pass was cheaper than most one day passes so I was fine with basically burning a day. I just wanted to get a lay of the land for what I had planned for the second day. After a few hours, I snagged a cab back to the hotel for about 5 bucks.
I closed out the night with some OK room service at the hotel. The dish I ordered was $26, and the bill I received was for $36. I added a tip because there was a spot for it. Upon further inspection I realized I passively tipped 22% of the original meal cost, and then actively tipped more. Oh well, Merry Christmas dude that brought the tray!
Attractions Visited
Amtrak 97 Silver Meteor (never ridden a train so I consider it an attraction)
Universal Orlando's City Walk (you have to walk through to get to either park)
Universal Orlando's Islands of Adventure

Poseidon's Fury (special effects show, very cool, no wait)
Hogwarts Express (Hogsmeade to Kings Cross)

Universal Studios Orlando

TRANSFORMERS: The Ride-3D
Race Through New York Starring Jimmy Fallon
Universal's Holiday Parade Featuring Macy's (nightly parade with great lighting, music, and SANTA!)
Money Spent
Train Ticket – $245 (was $69, but I added the sleeping car for fun)
Breakfast – Free w/ sleeping car ticket
Lunch – Free w/ sleeping car ticket
Universal Orlando 4 day 2 park promo ticket – $180
Tips to George, Bianca, Greg, and Juan – $40
Tip to the dude that brought my supper – $10.72
Hotel reservation prepay – $256
TOTAL – $731.72
Saturday
Morning came earlier than expected, per usual, but that's fine. I took a quick shower, and went downstairs to grab some grub. Turns out, I don't spend enough time in hotels to have any sort of status, so it costs money to eat. That's cool, I like breakfast food enough that I'll pay for it. At this Doubletree, breakfast is provided by an onsite restaurant. The buffet is the best option at $14.95 + tax and auto 22% gratuity. My man Greg (not the cab driver, the waiter this time) hooked me up with discount. I ate a good spread of hash browns, eggs, bacon, and a banana because I'm super out of shape and today was a big walking day.
Friday night, I decided to commit to spending my Saturday with 11 strangers on a "VIP" tour of Universal. This type of experience is one I will highly recommend forever and you should be able to pick up why below. What this meant for my morning commute was I didn't have to be at the park before opening, but a touch after. My tour was scheduled for 9:30 so I walked over at 8:45 and spent some time milling around outside the gate. Around, 9:15 I entered the VIP entrance and signed in. In the lobby, they ask your name, check your ID, validate your ticket, and then give you your VIP ticket, lanyard, and meal pass. What they also do is put down notes about your appearance so your guide can find you and give you a warm fuzzy feeling when they greet you by name.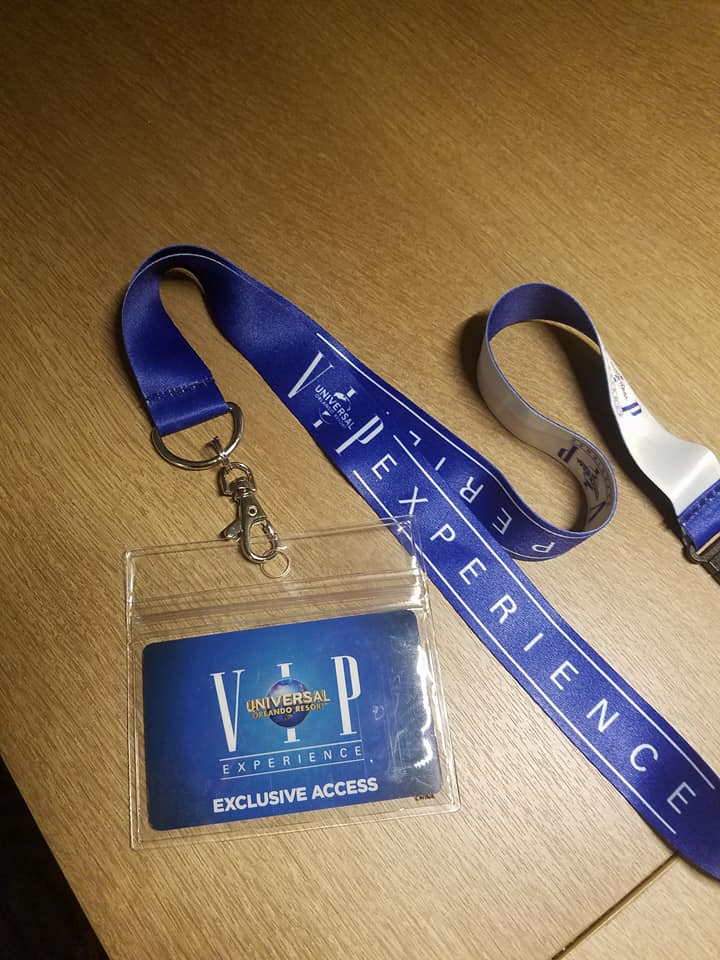 Next, you wander upstairs where there's a spread of food and drinks along with some controlled chaos if it is a busy day. All the tables were full of families, so I stole a bottle of water and went to the couch. A few minutes later I met Jessica, our guide for the day. She was friendly, welcoming, and seemed to genuinely care about my experience. She asked a few questions about my interests, but I deflected with "I'm up for whatever the rest of the group wants." Jessica did note there was a bit of a struggle finding all of our parties. There were 4 groups, including me, on the tour. Each family inquired why I was alone, I didn't get too creative, but they seemed to appreciate the value of solo travel. One group was late, and one was hiding in plain site. Turns out, they didn't provide quite the right description at check in, but we were able to depart a touch late to start our day.
It was immediately apparent that Jessica had a love for the parks and sharing everything she knows about them. The knowledge and history she shared as we wandered was wonderful and worth hearing in person so I won't give any of the secret sauce away.
As you're probably guessing, there is a cost to all of this (which I'll list at the bottom like before). Here is what the cost includes:
1 full service meal
1 quick service meal
1 extra drink
1 extra snack
A great tour guide – go Jessica!
VIP access to rides and shows (12 is the magic number here. Also, VIP access to a ride means no wait access. You have no line. You walk up, cut in front of everyone, and sit in the best seats.)
Reserved VIP seating for parade viewing
Behind the scenes access to certain park elements
From about 10 to 5, we covered every square inch of Islands of Adventure and Universal Studios that members of our group had interest in. We started the day by entering the exit of TRANSFORMERS: The Ride-3D and filling a car with just our crew after a helpful pre-ride briefing from Jessica. This ride, like many others in the park is a motion simulator that relies mostly of manipulation of your senses to provide what feels like a high speed action packed ride protecting the AllSpark. Great way to start the day.
Next, we cut the queue at Despicable Me Minion Mayhem. Our goal: complete minion training while resisting the banana. It was chaos. I loved it, even if it was a little bumpy. Next was the Hollywood Rip Ride Rockit, a double inversion coaster where you pick your own tunes to jam to during the ride. There is an Easter egg I discovered after completing my adventures that may interest you, but I'll let you figure that out on your own. Overall, a fun coaster, and we got the front row because our crew budged again (you should be seeing a trend), but the inversions did rattle my cage a little bit.
After that we were ready for a quick break so we headed to the front lot between the parks that is still functional. We received a quick briefing on what sound stages are used for at the moment and some of the history of what was filmed at the park. We also had a quick look at the Grinchmas dressing room soundstage. It appeared that Mannheim Steamroller had some gear around back there for their shows over the weekend. Then, we left the lot at a different location than we entered from, near a bathroom. That is always a welcome surprise when you're crushing water like minions crush bananas.
Up next on the adventure was Race Through New York Starring Jimmy Fallon. This ride is neat for a number of reasons. To start, all music throughout the lobbies and the ride was composed and performed by The Roots. Also, the Ragtime Gals sometimes appear for live performances and it uses a new live queuing system where you can schedule a time to return or retrieve a ticket and wait for the lobby lights to change to your color. Then a NBC page allows you into the waiting area where you receive the safety instructions as a rap. All of that combined with a cool auditorium style motion simulator made this adventure great, but it was better when we got off and Jessica showed us up to the operations room. We were able to peek in and see two ride operators at work. This is the type of stuff I really signed up for. 11/10. A+++. Will buy again.
We were going to head to the Revenge of the Mummy (a great ride) after that experience, but it was down for maintenance so we continued past that attraction to The Wizarding World of Harry Potter – Diagon Alley. We skipped the queue again by using an employee entrance and hopped on Harry Potter and the Escape from Gringotts. A word of caution: it is worth your time to return and wait in the regular queues for all of the rides as the themed elements are all fantastic, especially in the Harry Potter attractions. As for the ride itself, without spoiling the story, this is a motion simulator/coaster hybrid type of ride that features 3D videos. Don't be scared off by the word coaster, there is only one drop.
We broke for lunch after that for about an hour. I used my quick-service meal on a burger, fries, shake, and water from Richter Burger Co. I didn't want the shake, but it was included with the meal plan cost so whatever. The food was OK, but the service was great. Everybody within the park was so nice all the time.
Post food, we went the mild but fun route with a show instead of a thrill ride. As VIPs we had front row, reserved seats at the Grinchmas show. Think Jim Carrey Grinch and you'll get the gist of the show. Enjoyable and fun for all ages. Also, air conditioning is great. We cut through the front lot to get to the show which technically takes place in the other park, Islands of Adventure. Upon departure we were in that park instead.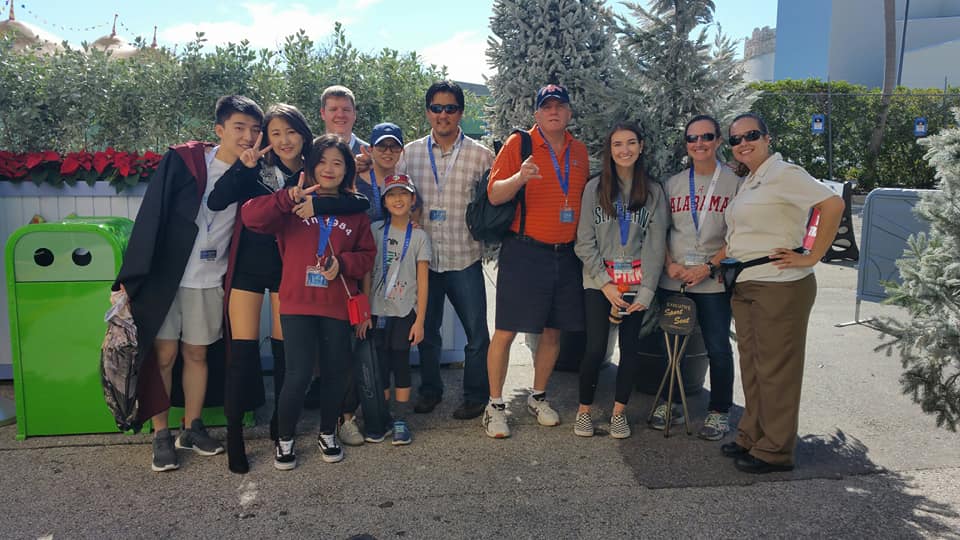 We cranked the thrill levels back up again with a spin on The Incredible Hulk Coaster. This coaster rides nicer than the Hollywood Rip Ride Rockit and has some different features including a lift hill based launch, which even if expected is exciting. When we hopped off of this ride, we got a nice piece of sneaky background info on the artwork around the area from Jessica. You'll have to take the tour to get more info.
Next up was The Amazing Adventures of Spider-Man. This is a 3D simulator very similar to Transformers, but featuring more physical elements including a functioning garbage truck and real fire. The icing on the cake for this experience was after the ride, we were able to witness a profile being run on one of the carriages in the maintenance area of the attraction. Jessica even pointed out different parts of the story that were occurring during the profile so we could see how a slow moving car can provide the sensation of high speed and falling. Loved every minute of this demo.
We skipped a few water rides and found ourselves going in the back of Skull Island: Reign of Kong. This is a simulator that takes place entirely in a sort of deuce and a half tour truck themed carriage. The best part of this ride is seeing how far animatronics have come, but you'll have to ride to find out why it matters.
Now, as I have grown up (if you believe that) I have enjoyed getting entirely soaked at a theme park less and less. Jessica understood this and suggested we try out the water ride Jurassic Park River Adventure anyway. She snagged us seats in the back 2 rows and we were off. While you can tell this isn't the newest ride in the park, the theming was still fantastic with a few good jumps. The splash at the end, which you can view from a bridge overhead, only got my right shoulder wet. Shout out to Jessica for saving the day there.
We were nearing the end of our exploration of the park, and we saved one of the best for nearly last. We went in the employee entrance to Hogwarts Castle and cut the line again for my favorite ride: Harry Potter and the Forbidden Journey. This attraction is made up of a carriage that puts you on your back or at least leaning back for most of the ride. No 3D here, but some pretty great effects and robots are present along with the 2D videos. It is a blast. It seems that the ride can handle incredible volumes of people too. It is designed for continuous loading so you board and hop off from a moving walkway much like those in airports and the carriage never stops.
We had accomplished 11 attractions so far, so Jessica let us weigh in on what we should finish with. Provided the suggestion of a classic of the park, we all hopped on the Hogwarts Express at Hogsmeade station and rode to Kings Cross. Our destination: MEN IN BLACK Alien Attack, one of the few attractions that is the same as it was 11 years ago when I last visited the park. Jessica provided a few key pointers on how to take out aliens and our teams did OK. Unfortunately, completion of the ride marked the end of the VIP experience as well and we parted ways with our tour guide and each other. It was worth every penny and I will do it again.
After the tour is done, the VIP pass automatically becomes an express pass. If you're in a group this is great, but for the most part being a single rider allowed me to board a ride faster than waiting in the express line. I rounded out the day by revisiting some of the attractions and attempting to catch the Hogwarts Castle lightshow thing, which proved difficult due to huge quantities of people attempting to do the same thing. Also, I enjoyed my first Butterbeer as my meal plan snack. I went with frozen, but Jessica did suggest the seasonally available hot Butterbeer. I used my full service meal on some low budget buffalo chicken strips and a water and walked back to the hotel.
Attractions Visited
Universal Orlando's City Walk (you have to walk through to get to either park)
Universal Orlando VIP Experience
Universal Studios Orlando

During Tour

TRANSFORMERS: The Ride-3D
Despicable Me Minion Mayhem
Hollywood Rip Ride Rockit
Front Lot Tour
Race Through New York Starring Jimmy Fallon
Harry Potter and the Escape from Gringotts
MEN IN BLACK Alien Attack

After Tour

I don't really remember, was still pumped from tour

Universal Islands of Adventure

During Tour

Grinchmas
The Incredible Hulk Coaster
The Amazing Adventures of Spider-Man
Skull Island: Reign of Kong
Jurassic Park River Adventure
Harry Potter and the Forbidden Journey
Hogwarts Express (Hogsmeade to Kings Cross)

After Tour
Money Spent
Universal Orlando Resort 2 park VIP experience for 11/25/17 – $275.84 (cheaper on slower days)
Lunch in park – $20.29 value for $0 with meal plan as quick service meal
Frozen Butterbeer – $7.75 value for $0 with meal plan as snack
Supper in park – $18.07 value for $0 with meal plan as full service meal
TOTAL – $275.84
Sunday
My trip was nearing its end and I had accomplished everything I wanted to already. This meant I had extraordinary flexibility on Sunday to take my time enjoying the park and its attractions. I started  by picking up an express pass at IOA for a cool $117. Pro tip: bring your own lanyard, it'll tack on another $9.99 per adventurer to buy them at the park. Also, I didn't really need it as a single rider, but I didn't realize just how good single riders had it yet.
The first three rides I went on had no line at all in any of the queues so I just walked on Spider Man, Kong, and Forbidden Journey. The Hogwarts Express doesn't have a single riders line so express can be worth it here, but other attractions, such as the Forbidden Journey don't have express pass. You should definitely gauge the park attendance before hand and determine what an express pass is worth to you.
On the Studios side of the resort, I checked out most of the stuff from the day before and tied in The Simpsons Ride, E.T. Adventure, and The Revenge of the Mummy. I rode most attractions 2 or 3 times because there was very little wait on a post holiday Sunday and single riders get great service.
Attractions
Money Spent
Universal Orlando 2 park Express Pass for 11/26/17 – $117.14 (not worth it on this slow day)
Kong Lanyard – $11.08
Lunch at Louies in the park – $12.23 w/ free orange soda left over as beverage on meal plan
TOTAL: $140.45
The End
Travelling alone rocks. Having no schedule rocks. Not arguing about what to do next rocks. Being creative with responses to why you're alone rocks. Theme parks rock. Train travel rocks. I will go back to Universal alone again, probably sooner rather than later. It was a blast from start to finish.
I want to close on a serious, and sad, note. While I am totally down with travelling alone and experiencing fun new things alone, many folks prefer to do that with family and friends. I too can appreciate adventures to theme parks and the like with family and friends. That in mind, as the fly on the wall flying solo this past weekend I witnessed far too many families that seemed to be stressed or angry with one another. Remember, the park costs money and has lots of fun stuff to do together, but the point is that you're together, not that you're going to every attraction in the park. Before you blow up and shout at one another for desiring to experience different attractions or perhaps enjoy an attraction more than one time, pause and remember why you planned the trip in the first place: to spend time with one another. Your kids don't want to remember getting chewed out for running to some attraction they're super excited about. Be kind.
Universal Orlando Resort didn't give any of this stuff to me for free and while this isn't a review, know that I would do it all again if that helps you make your decision on an upcoming trip.